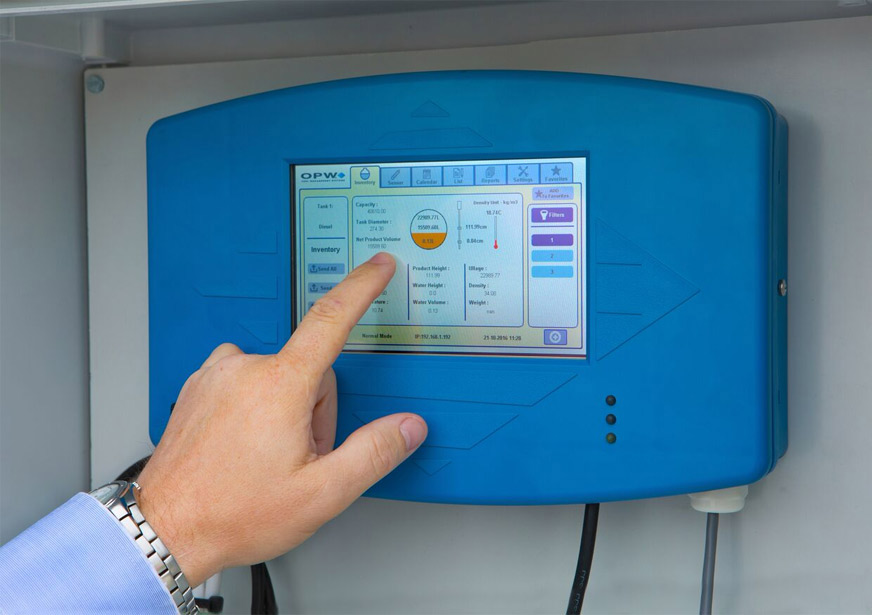 SiteSentinel® Nano® Console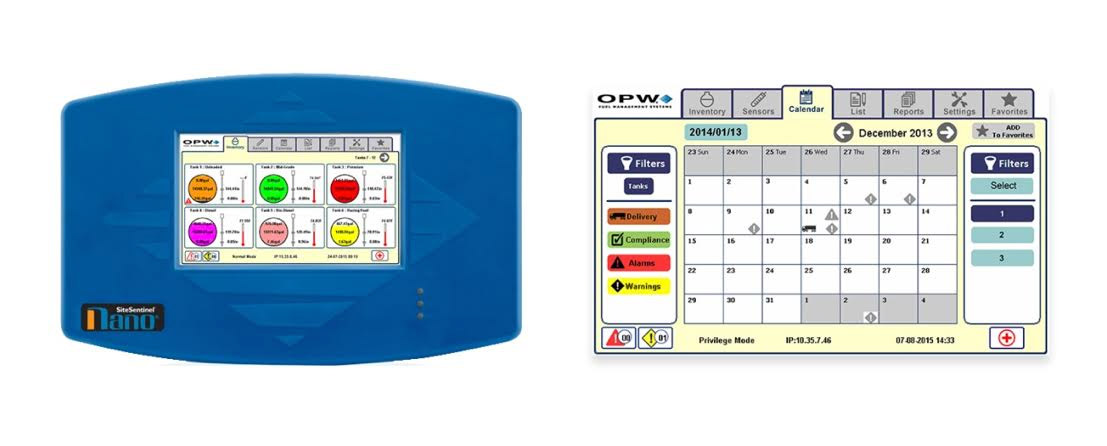 The SiteSentinel® Nano® tank gauge provides inventory and compliance monitoring to retail and commercial sites that is simplified, full-featured and cost-effective. OPW's Mixed Multi-drop Technology significantly reduces wiring and installation costs by enabling probes and sensors to be run back to the tank gauge on a single wire, and offers the ability to monitor up to 12 probes or 24 smart sensors in any number of combinations. The Nano's intuitive color touchscreen and simple data display settings provide convenient on-site access to real-time inventory and alarm data, while the gauge's remote access allows users to control the gauge from anywhere, making the Nano one of the most user-friendly tank gauges in the industry.
SiteSentinel® Nano® Features
Calendar view shows both tank and sensor alerts, including deliveries, compliance, alarms and warnings that can be filtered by event and/or tank or sensor

A "Favorites" list enables quick recall of the most-used filter settings

Monitors up to 4 probes (up to 12 per gauge) or 12 sensors (up to 24 per gauge) per barrier position, or a combination of both

Displays gross- or net-corrected tank volume, ullage, product volume and water, product level and water level, and product temperature for individual tanks

Able to schedule reports to automatically run daily, weekly, monthly or annually

Programmable Automatic Leak Detection performs, daily, weekly, and monthly static leak tests

Local or remote PC connection

Alarm notifications issued via email and SMS

Optional Tank Overfill Alarm

Networking options allow users to select either a Static connection or DHCP

With the ability to have 4 optional OM4 Output Modules that each offer 4 relays, functionality is expanded to a total of 16 relays including 2 onboard relays

Reports include Current Inventory, Delivery History, Events in Progress, Event History, Leak Test

Auto Detect feature shows the number of devices connected to each of the internal barrier positions after initial set -up —even if wiring configurations change

Includes address book of contacts for easy reporting configuration via email and SMS

Configurable to meet localized settings (Date/time formats and English/metric units)

Meets W eights and Measures standards in countries where required

Communicates with most industry standard third-party POS protocols

User-friendly interface features simple, easy-to-recognize icons

Optional density measurement sensor can monitor product quality. Fuel density reports can be shown in real time on the console
SiteSentinel® Nano® Console Benefits
Provides streamlined leak monitoring for sites with double-wall tanks and lines

Mixed multi-drop technology allows for probes and sensors to be connected to one wire, significantly reducing installation costs

An intuitive full-color touchscreen interface provides a simple user experience

Alarm notifications issued via email, SMS for instant and convenient notification of system events

Console is configured through an HTML web interface. No added hardware or proprietary software is needed for remote connections

Web-based interface enables remote system management and training
System Alarms and Events
In-Tank Alarms:
High, Low Temperature

Reconciliation Theft

Fail RTD/Thermistor

Delivery Start/Finish

In-Tank Leak Test Failure

In-Tank Test Warning

Product Level

Water Level

Probe Failure
Sensor Alarms:
Sensor alarms will provide hydrocarbon and water alerts (dependent on type of sensor connected)
SiteSentinel® Nano® Internal I.S. Barrier Diagram Featuring OPW Mixed Multi-drop Technology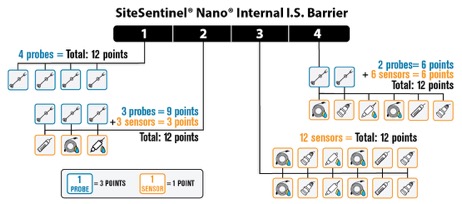 OPW's mixed multi-drop technology allows probes and sensors to be run on one wire back to a tank gauge. This leads to substantial savings on installation labor and wire costs.
With mixed multi-drop, the SiteSentinel® Nano® can hold up to 12 probes or 24 sensors in any number of combinations. Possible combinations are driven by a point system: one probe = three points; one sensor = one point.
Each of the Nano's four barrier positions can hold a total of 12 points, which can be obtained by 4 probes, or 12 sensors or a combination of probes and sensors.
Listing & Certifications

For more information, please contact Petro Systems Management:

Tel: (021) 7335690
Email: info@petrosystems.ie